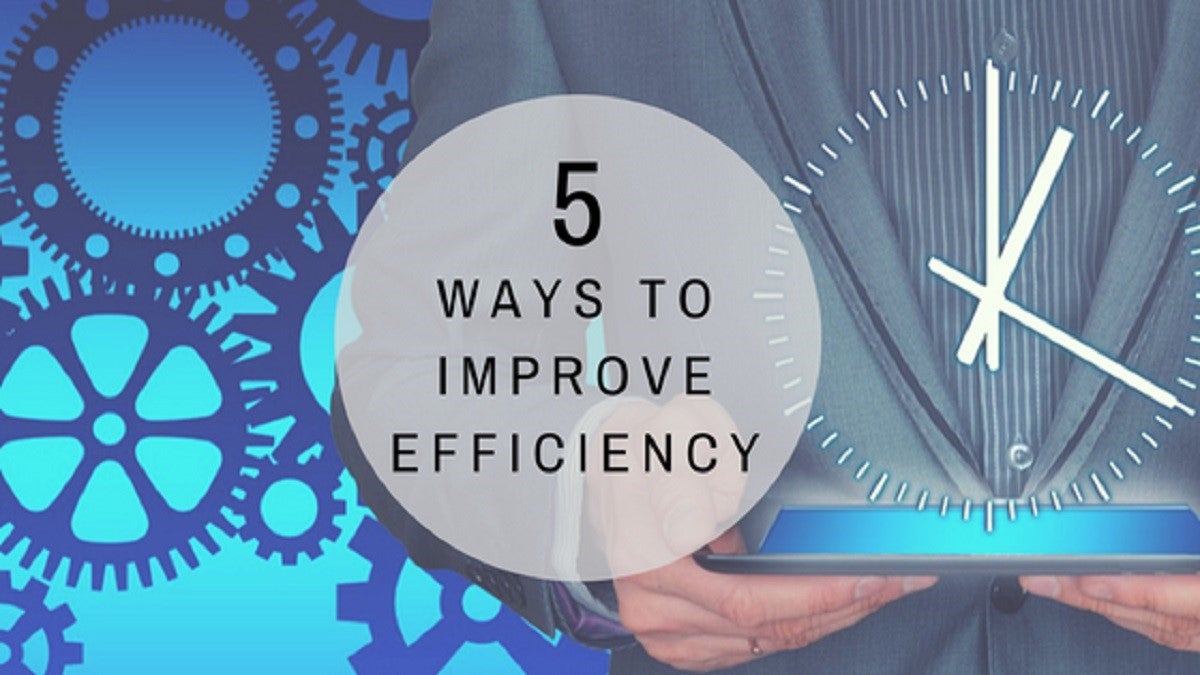 Efficiency can make or break a manufacturing organization. Keep your organization and factory running smoothly with these useful efficiency tips.
1. Stay Organized
The first obvious but important piece to improving efficiency is to become well-organized: physically, electronically, with information, equipment, and processes. An exceedingly important way to keep organized is to diminish the need for constant paper trails. Utilizing, sharing, and storing physical papers is not only messy, but quickly becomes difficult to follow. Some research shows that just looking for information stored in paper files and emails takes up about 30-40% of employees' time. By utilizing technology to collect, share, and store information, organizations can save time and money, and increase their efficiency. Existing files and critical documents can be backed up online, preventing loss of documents due to accidents or disasters. Cloud-based programs and software also allows for the protection, easy access, and organization of your company's information.
Aside from organizing information, manufacturers can also organize their operations by implementing standardized processes. Create a standard for each job to ensure that it is always done the same, no matter who is completing it. This will prevent incomplete tasks and confusion, improve training for new employees, and reduce errors, even during personnel changes.




2. Use Real-Time Data
Real-time data is an invaluable tool in the manufacturing industry that is becoming increasingly useful. By delivering consistent, timely data regarding operations and performance, it provides an array of solutions for many factories' biggest challenges. One of the most beneficial uses of real-time data, specifically real-time production floor data collection, is to track the life and usage of equipment. This allows employees to know when a machine must be serviced or replaced, ultimately driving consistent asset maintenance and preventing downtimes from broken equipment. Having access to real-time updates generally provides ROI across the board, as it allows for quicker production, fewer mistakes, and ultimately higher-quality products.




3. Utilize a Simple Inventory Tracking System
Speed up plant operations and reduce errors by implementing a unified tracking system, also known as traceability. Whether it is done via barcoding, QR codes, or RFID tags, traceability simplifies and adds accountability to factory processes from the minute materials arrive at the warehouse to the moment materials or products ship. Because traceability allows slow manual data entry and manual entry errors to be bypassed, data collection is faster and data accuracy is increased. Employees' day-to-day activities become easier and more organized as a result. Not sure which tracking method would best suit your factory? Contact Repathis to learn more about traceability, so you can say goodbye to missing material and slow processes and hello to reliability, efficiency, and accuracy.




4. Implement a Core, Manufacturing-Centered Software System
Many organizations utilize various different software programs between multiple departments, leading to redundancy, poor flow of information, and ultimately inefficiency. A manufacturing-centered software system (like MRP systems or ERP systems specifically built for manufacturers) makes it simple to streamline processes and improve flow of information and activities. Implementing a central software system can support a business in many ways, including helping with better decision-making and improving inter-departmental communication. In factories, it can reduce errors and provide valuable operational insights. While not all MRP or ERP systems are created equal, if you choose one that is customizable to your organization's specific needs and built for the modern manufacturing industry (like Revive), it can help help maximize efficiency and productivity, and create significant competitive advantage.




5. Revive Your Organization with Smarter Tools
As your business grows and advances, your technology should too. You deserve better than your legacy software. It's time to implement a software that is built to help your organization thrive in the modern manufacturing industry. Revive, a complete manufacturing software system built by Repathis, simplifies tasks and helps keep your information organized and operations efficient. By keeping manufacturing at its core while serving every department in your organization, Revive provides the competitive advantage that users seek. From sales and accounting to traceability and quality assurance, our software has everything a manufacturing organization needs – all in one place. Interested in learning more? Contact us for a demo.